January '22 Elementary Lunch Menu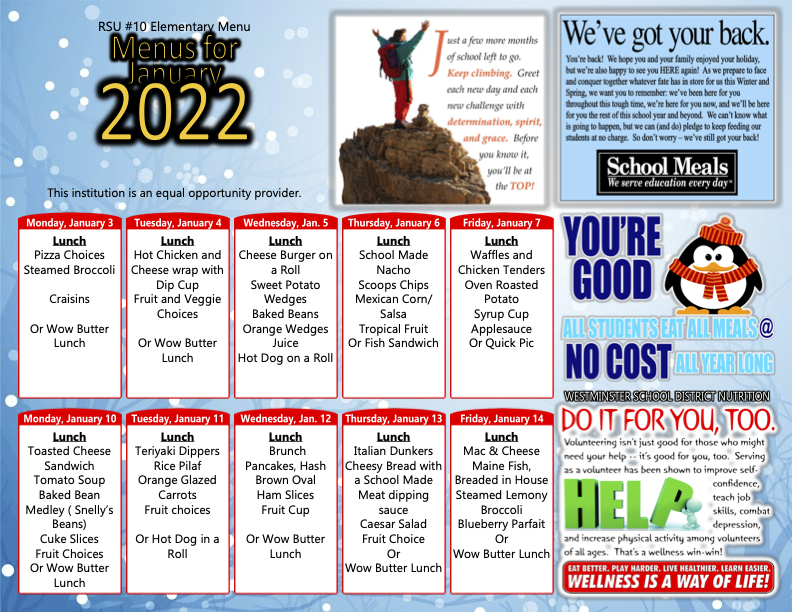 Free Vaccination Clinic for ages 12 and older. See attached.




IMPORTANT NOTICE – Effective Today January 6, 2022 RSU 10 Schools will be going back to COVID-19 protocols that were in place before vacation. The changes that came to Maine CDC/DOE from the federal government were prematurely put into the Maine Standard Operating Procedure (SOP) and now DOE and CDC, including Dr. Shah, is asking for our input to continue to revise the SOP for our schools. This has NOT been settled at any level. Meanwhile, we are seeing the greatest uptick in cases we have ever seen in our schools. We have concerned parents, frightened staff, and a lack of available testing outside of school. I UNDERSTAND quarantining is frustrating and difficult for all, especially parents. Please know that as soon as we have the additional information from DOE/CDC, we will look at this in its entirety and make any necessary changes at that point. If you are not vaccinated OR not in Pool Testing, and you have a positive exposure, you will need to quarantine for 10 days. If you are not vaccinated, I urge you to sign up for Pool Testing. If you have tested positive Monday, 1/3/22 through yesterday, Wednesday, 1/5/22, and were told that there would be 5 days of quarantining, you will need a negative test to return after the fifth day. The other option is to return to school after 10 days of quarantine. PLEASE if you are frustrated with this change DO NOT take it out on our nurses. They haveone of the most difficult jobs there is right now.

RSU 10 Community Survey
https://forms.gle/U5CKMMobVzXAitns5
We invite everyone in our community to complete the survey at this link. This will help us in hiring our next Mountain Valley High School Principal! Thank you!
RES: We are excited to see our students back at school tomorrow (1/3/22)! You can email Mrs. Pinkham if your child had COVID over the break or if they were recently exposed (
tpinkham@rsu10.org
). We will work together to determine quarantines based on the new guidelines. As always, please keep students home if they don't feel well. Happy New Year!



There will be a 1 hour delay in RSU 10 schools today, Thursday December 16
RSU #10 would like to share this statement, written by Ryan Casey . Many of you may have heard that there was a threat made against our school at the school board meeting on Monday night. It is true that a threat was made. It is also true that racial slurs and hate speech were used. We never condone the use of that type of language and work hard everyday to be an anti-racist and anti-bias district. RSU #10 has, and always will be, entirely devoted to protecting all of our kids. RSU 10 CO Administration
During Monday's School Board meeting, everyone in attendance witnessed racial slurs and threats to harm. We will work to quell the fear and repair the damage from both of these:
https://5il.co/136w4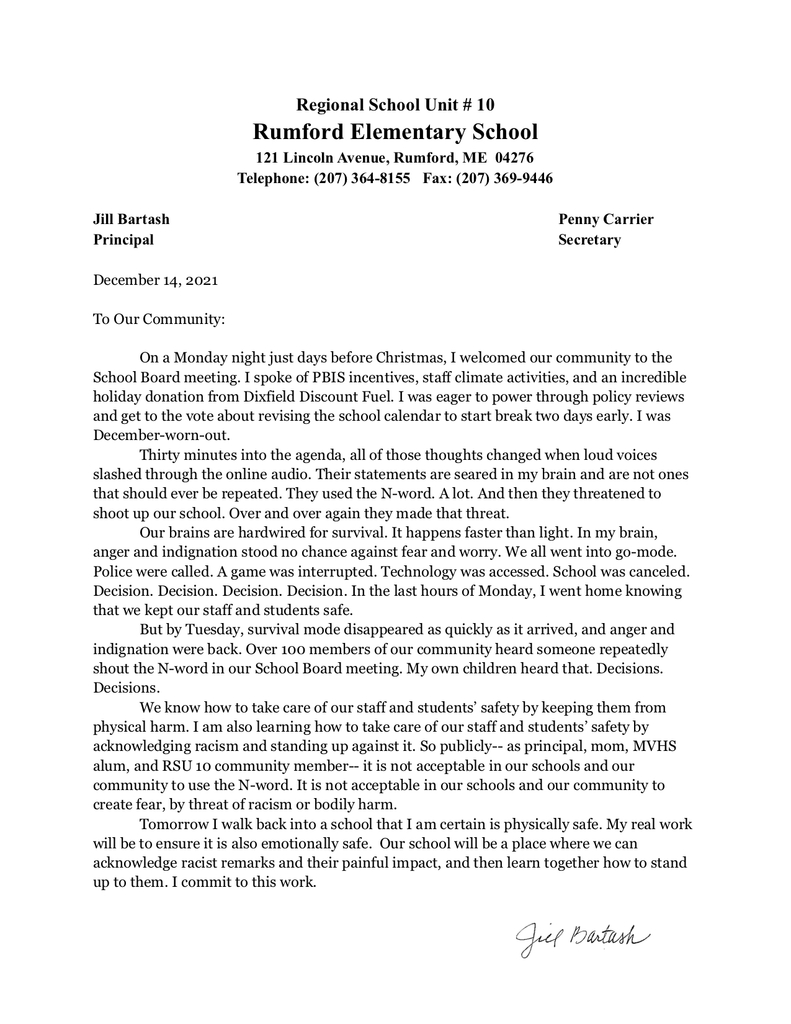 School will resume on Wednesday, December 15, 2021. Here is a message about the interruption to the school board meeting --
https://5il.co/1360j
Thank you, RSU #10 Administrators

RES: We have some fun spirit days planned for staff and are inviting students to join in if they want to! 12/7: Holiday Sock Day 12/10: Flannel Day (also Picture Retakes) 12/17: Go Grinch and wear green 12/20: Winter/Holiday Accessories Day (hats, headbands, scarves, etc.) 12/21: Holiday Shirts/Sweatshirts/Sweaters


Indoor Activities!! The good news this year is that all of our extra and co curricular sports and activities are able to take place this winter! We ask that all spectators and participants in our buildings are masked. The sports conferences, our RSU 10 schools belong to, are limiting spectators based on the activity and size of each gymnasium. In order to track for contact tracing and home spectators, tickets will be issued. Most all of our sports and activities are live streamed for those not in attendance. Our Athletic Directors and/or Building Administrators have and will continue to communicate more specific details. PLEASE do not take out your Covid frustrations on RSU 10 staff. We are all trying to move forward. Remember it is about the students and they are excited to be able to play and participate this year!