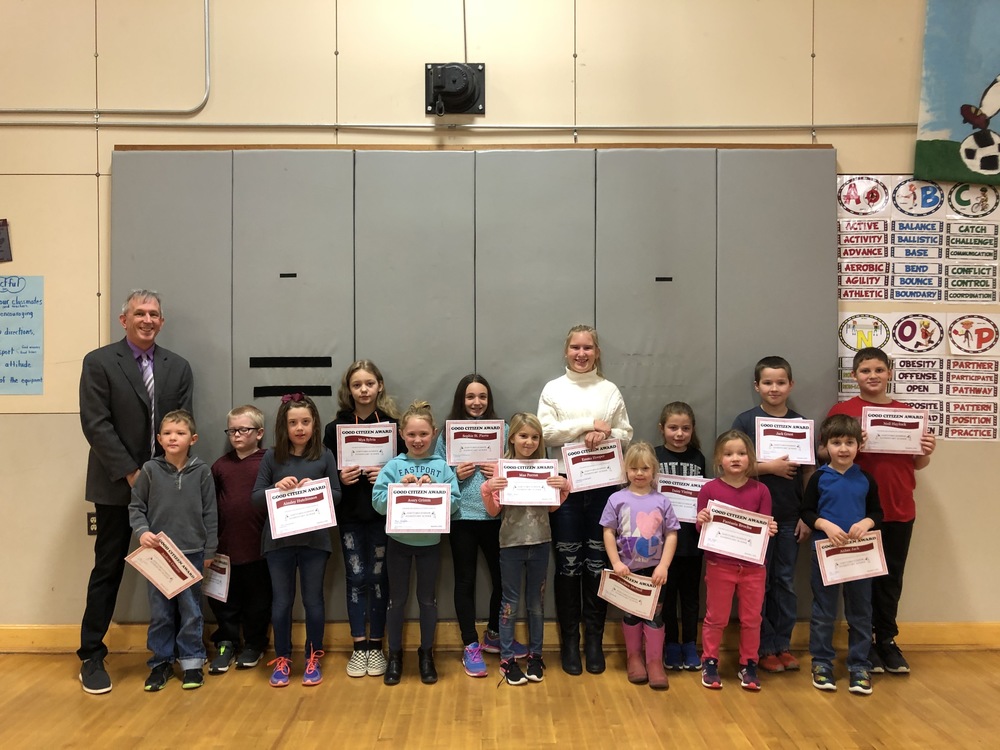 Good Citizens for the Month of November
Ryan Wilkins
Tuesday, December 03, 2019
Good Citizens for the Month of November
At the 12/2/19 Monday Morning Meeting, the following students were recognized as good citizens for the month of November.
In order to be considered for a Good Citizen Award, a student must consistently follow the Way of the Wolf (Be Safe, Be Respectful, Be Responsible), must complete their homework and classroom assignments, and serve as a role model to others in the school.
Teachers are asked to only submit names of students who meet this criteria consistently during that month.
The good citizens for the month of November are:
Mrs. Arsenault's room- Candace McNeil
Mrs. Black's room- Fantasia Brochu
Mrs. Thone's room- Aidan Jack
Miss Caron's room- Mae Perron
Mrs. Reuter's room- Andrew Cerrato
Mrs. Trenoweth's room- Ian Madison
Mrs. Houghton's room- Avery Grimm
Mrs. Raymond's room- Ainsley Hutchinson
Mrs. Osborn's room- Daisy Vining
Mrs. Vining's room- Corry Witham
Ms. White's room- Jack Grant
Mrs. LaCasse's room- Sophie St. Pierre
Ms. McCarthy's room- Mya Sylvia
Mrs. Hersom's room- Neil Haylock
Ms. Kimball's room- Emma Hooper
Congratulations to these students and their parents on their accomplishment!!