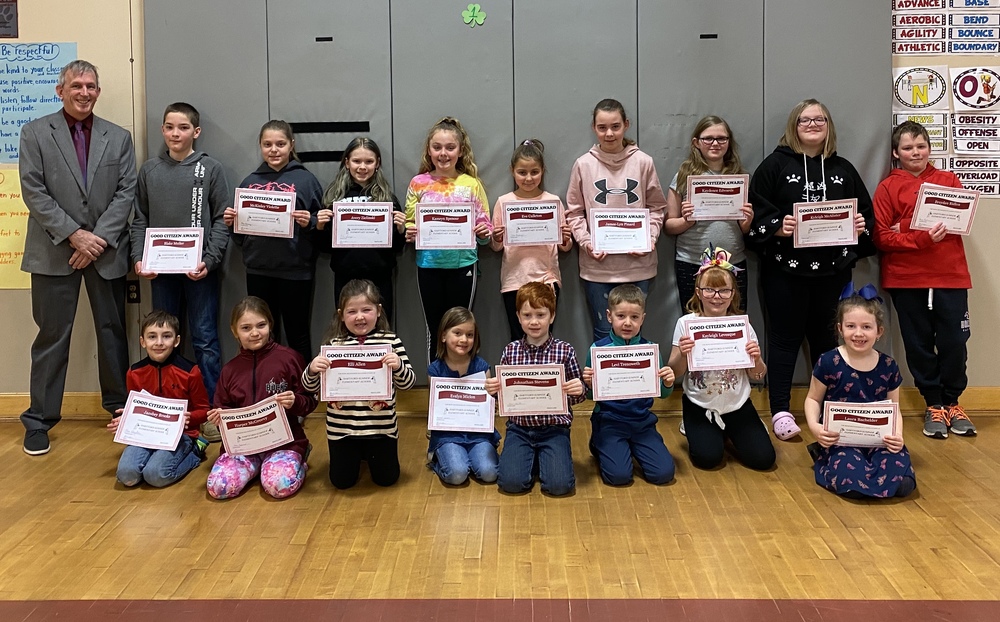 Good Citizens for the month of February
Ryan Wilkins
Tuesday, March 10, 2020
Good Citizens for the Month of February
At the 3/9/20 Monday Morning Meeting, the following students were recognized as good citizens for the month of February.
In order to be considered for a Good Citizen Award, a student must consistently follow the Way of the Wolf (Be Safe, Be Respectful, Be Responsible), must complete their homework and classroom assignments, and serve as a role model to others in the school.
Teachers are asked to only submit names of students who meet this criteria consistently during that month.
The good citizens for the month of February are:
Mrs. Arsenault's room- Jace Mergist
Mrs. Black's room- Elli Allen
Mrs. Thone's room- Levi Trenoweth
Miss Caron's room- Evelyn Miclon
Mrs. Reuter's room- Johnathan Stevens
Mrs. Trenoweth's room- Laura Bachelder
Mrs. Houghton's room- Jacobey Brooks
Mrs. Raymond's room- Harper McGreevy
Ms. Cushman's room- Kayleigh Levesque
Mrs. Vining's room- McKinley Violette
Ms. Blyberg's room- Eve Culleton
Mrs. Savage's room- Avery Zielinski
Ms. White's room- Kamryn Spencer
Mrs. LaCasse's room- Breydan Ridlon
Ms. McCarthy's room- Kyleigh McAlister
Mrs. Hersom's room- Jamee-Lyn Pinard
Ms. Kimball's room- Kaydence Edwards
Mrs. Ricker's room- Blake Muller
Congratulations to these students and their parents on their accomplishment!!